Information in this facility
Information in this facility

Map in this facility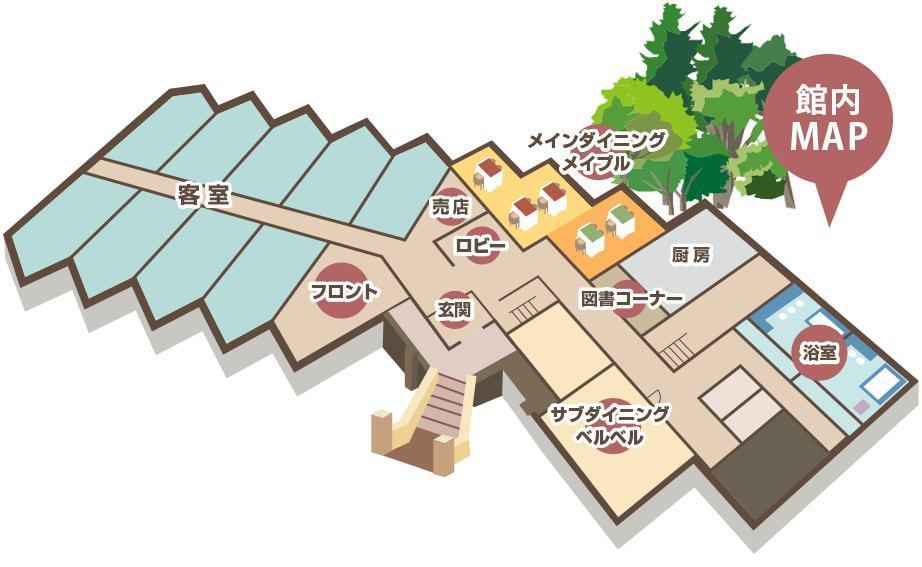 Introducing the facilities in this facility
This facility has about 10 steps at the entrance, but there are almost no steps inside this facility.
It can be used in a regular size wheelchair.
It may not be available if the wheelchair is ordered and wide.
In that case, please use the wheelchair provided at this facility.
Exterior appearance

A five-minute walk to Goshikinuma Ponds, the center of the Urabandai.

Entrance

lobby

In the lobby full of openness
Please spend a relaxing time.

Front desk

24 seats in the main restaurant.The area is about 75㎡.Ceiling height is about 5.5m.
*If you are traveling with children and are concerned about your surroundings, we have a restaurant Beruberu.
Please let the staff know.(Please understand that it may not be available during the busy season.)
The restaurant always has 20 types of red wine and 10 types of white wine.
Please choose your favorite wine according to the dish.

Hours Available

【dinner】From 18:00 to 22:00
【breakfast】From 7:30 to 9:00

26 seats in the sub-restaurant.The area is about 65㎡.Ceiling height is about 2.7m.
Drinks cannot be brought into the restaurant at dinner,
If you are going to use it at a party, please contact us if you would like to bring your own drinks.
As it is a private room style, it is very popular with people with children.

Hours Available

【dinner】From 18:00 to 22:00
【breakfast】From 7:30 to 9:00

It is installed in the restaurant.

The bathroom floor and bathtub are marble bathtubs with natural granite.
It is large enough for 3 to 4 adults to take a bath at once.

A shampoo buffet is installed in the private bath.
Baby shampoo, children's shampoo, non-silicone, for men, etc.,
We offer several types of various shampoos!

| | |
| --- | --- |
| Open Hours | From 15:00 to 9:00 the next day |

Private bath made of Mucha design tiles.
The dressing room was also made by combining Mucha design tiles and stones.
It is a gorgeous space.

| | |
| --- | --- |
| Open Hours | From 15:00 to 9:00 the next day |

You can take a bath whenever the lamp is lit.
Please bring the towels provided in your room.

We have a lot of foot wipe mats in the private bath, so
Please use a new one each time.

shop

We have a large number of handmade works by small artists from Urabandai.
Please drop in.

playroom

The floor is made of soft material, so
Safe for children to fall!

Manga library

We have about 1,000 manga.
You can bring it into your room.
When you finish reading, please return it to its original position.

Smoking Room

Please feel free to use it.

vending machine

Please enjoy alcohol and soft drinks.
Available.

Rental snowwear

For guests staying at the property
Rental wear is rented at a special rate.

Usage fee

【Ski set & wear set】2,500 yen(Tax included)
【Ski set】1,000 yen(Tax included)
【Board set】1,000 yen(Tax included)
*Please make a reservation in advance at least 2 days before your stay.

wheelchair

One wheelchair is available.
Please do not hesitate to contact us.
Other equipment
Number of rooms

8 rooms in total:8 Western-style rooms

Room supplement

7 maisonette rooms/1 connecting room


Standard room facilities

All rooms bath and toilet/Shower in all rooms/Air conditioning in all rooms/TV set/Video deck(Including DVD)/Satellite broadcasting/Empty fridge

Internet related

All rooms are available
[Connection method]Wired LAN / Wireless LAN
[PC rental]No
[Internet connection]Free

Amenities

Cotton swab/toothbrush/cotton/Body sponge/Shaving/bath towel/Face towel/Some women's cosmetics/Some men's cosmetics/
Disposable slippers/Hairdryer/Cup/cup/Instant cafe au lait/tea/Tea

Facility contents

Lounge/non-smoking room/Drying room

Service & Leisure(Including arrangements)

Rental skis(Paid)/Rental board(Paid)/Golf(Paid)/fishing(Paid)/Canoe(Paid)/Go/Mahjong/tennis(Paid)

Credit cards available locally

Credit cards cannot be paid locally.

Check In

15:00

Check Out

10:00

Cancellation provisions

7 to 2 days ago:20% of room rate
1 days prior:50% of room rate
On the day of arrival:100% of room rate
Cancellation without any contact:100% of room rate
*If there is a cancellation policy set for each accommodation plan, that will be given priority.

Cautions

・Foreign language not available
・Check-in is from 15:00.It is not possible to enter the room before 15:00.
・Please note that the location of the car navigation system is not displayed accurately.
・Please understand that we do not serve dinner after 21:00.
Private bath details
Private Bath

Yes(No conditions)

Number of baths

[Indoor bath]Man:0 / woman:0 / mixed bathing:2


Bath usage conditions

From 15:00 to 9:00 the next day
It can be used within the above time during the stay.
Please note that you will not be able to use the service after check-out.