Mikihouse child & family research and marketing institute inc has 100 or more items checked whether it can stay with peace of mind even with baby and children such as equipment, customer service, service menu based on its own certification criteria, and it clears 70 items or more Welcome Baby Accommodation certified as a hotel.
≪Room example≫※Children under 2 years old are limited.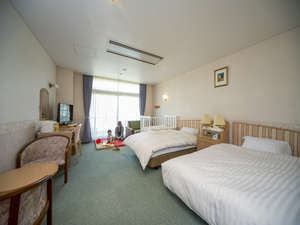 Room benefits

●KIDS amenities (To children above 2 years old)
●Present for BABY (To children under 2 years old)
·Baby soap·BOTTOM Wipe
·toy
Room equipped

Spend comfortable rooms and baths fun
To get it,
We have a wealth of fulfilling supplies.

●Diaper treatment bucket
●Electric pot
●Okayake
●Hot water temperature gauge
●Toys for bath
●Cups & straws for KIDS
●Baby bottle sterilizer (to use front desk with microwave oven)

●Baby tub, children's chair and tub are prepared in the bath
●There is a shampoo for babies.
●Toys·Picture book

●Children's play mat
(You can take off your shoes and play hi - hi)
●Door stopper

●Corner cover
●Auxiliary toilet seat

●Baby tub·Stepping stone
In addition, it is equipped with outlet guard · veranda protection net.
rental

●DVD player
●DVD
●air purifier
●humidifier
●Board games etc.
●Bed guard

※The number of rental items is limited.

※The picture is "DVD player · DVD".
shop

We are preparing sweets for baby · KIDS · baby food, diapers · beverages etc.

Large Communal Bath(Second floor)

The use hours will be from 23: 00/6: 00 to 9: 00 at check-in.

Bathrooms for women are equipped with cribs and buckets for diaper disposal.
Also, there are shampoo, hot water temperature gauge, toy, bath chair, hot spring oven and baby bathtub for BABY, so if you are using, please ask the front desk.

There is no toilet in the public bath.
Please use the shared toilets on the 1st and 2nd floors or the toilet in the room.

We prepare cold tea (free) before the public bath.(Only in summer)
Children's space(First floor Front desk side)

Guests of the hotel can use it freely.It's like a secret base and it's fun!