Information on traffic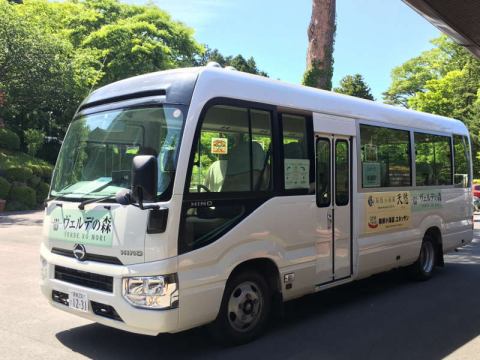 Round buses are operated from Gora station. Gora Station Tenyu Yunessan ⇔ Tenyu ⇔ Verde no Mori, please refer to the following for operation time. Please contact us for details.
【Free pick-up bus service schedule】
Scheduled departure from Gora Station
 9:15, 9:45
10:15, 10:45
11:15 shots, 11:45
From 12:00 (Will be a wagon)
13:45
14:15, 14:45
15:15, 15:45
16:15, 16:45
It is a wagon from this.
17:00, 17:30
18:00, 18:30
19:00, 19:30
20:00 (Last)

Gora Station Tenyu Verde no Mori Tenyu Yunessan Tenyu Yunessan ⇒ Gora Station

※Travel will be every 30 minutes.The time may change depending on the road conditions.
※The station of "Gora station" will be the point where I left the underpass (side passage) next to "Hakone Gora Post Office".
※Because August 16 is the Gora Summer Festival capital firing, after 17: 15 Gora, we will not drop in to Gora.