Inside the facility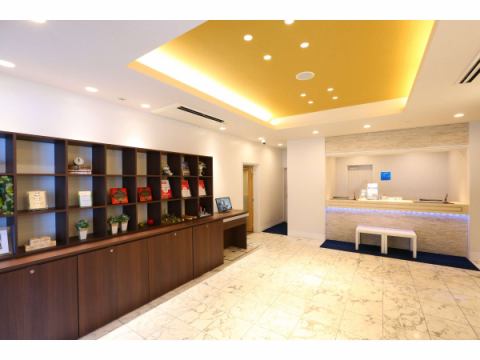 Fasilities & Service Facilities & Services
Free laundry corner

You can use the washing machine and dryer, which are convenient for long-term stays, free of charge.A one-time-use detergent (50 yen) is sold at the front desk.

Dry cleaning by a contractor is available at the front desk.
Custody until 10:00 am ⇒ Finished at 18:00
Please contact the front desk for prices and details.

Video on demand(VOD)

You can freely select and watch the program from your favorite titles such as the latest movies and past excellent works.
Unlimited viewing for one day(1,000 yen / night)

Please purchase a ticket from a dedicated vending machine and watch it.
【Ticket vending machine installation floor:2nd, 4th, 6th, 8th, 10th floor】

If you would like to prohibit adult viewing, please ask at the front desk.

Breakfast(Breakfast voucher that can be used at nearby partner stores)

【Partner with breakfast voucher】Customers who have made a reservation with the plan are eligible.
【Only Room/ No Meals Included Stay】Customers who make reservations with the plan can also purchase a breakfast voucher (400 yen per person including tax) at the front desk on the day if they wish.
Please understand that Urbain Hotels other Urbain Hotels stores, breakfast is not served in the hotel.

Partners are beef bowl chains, coffee shops, etc. around JR Kamata Station.
You can choose from several types of menus at each store.Some takeout is possible.
Detailed information on the location, time of day, menu, etc. of the store you are using is available at the front desk.
Please feel free to contact us by phone.TEL 03-3732-5123

No refund will be given even if it is unused.If you are undecided whether to use it, please make a reservation with the "no meal plan".
Even if you make a reservation with a mealless plan, you can purchase a breakfast voucher at the front desk on the day.The fee is 400 yen (tax included) per person.

All infants do not have a breakfast voucher because they sleep together.If you wish, at the front desk on the day

In-room internet connection

All rooms can be connected to wired LAN and wireless LAN.
The SSID and password for wireless LAN connection differ from room to room.Please check the instructions provided in the room.
★All guest rooms have been changed to IPv6, which enables faster and faster internet operation.

*Notes on internet connection

Customers are responsible for making security settings when using the Internet connection.
In addition, please understand that the hotel is not responsible for any loss or damage caused by unexpected stoppages or defects during use.
Please refrain from occupying the line for a long time, such as playing online games or sending and receiving large files, as it may cause inconvenience to other customers.
The hotel does not support internet connection.Please check with your contracted provider or the manufacturer of the equipment you are using.

Rental PC(Paid)

Available at the front desk(1,050 yen/Night)
*Please understand that the number is limited.

Parking(It is a complete reservation system)

There are 3 parking lots.It is a complete reservation system.
For reservations, please call TEL 03-3732-5123 Thank you.
1,000 yen per night(One)

If you wish to park your car before check-in, additional charges may apply depending on the time of day.
Please check in advance as trucks may not be parked.
It may be full at the time of booking.If the car is full, we will guide you to nearby coin parking at the front desk, but please understand that we are not affiliated with the hotel and we cannot secure a place or check availability.

| | |
| --- | --- |
| Per night | 1,000 yen / unit |

Reliable security

Security with a guest-only card key.
(Please visit the lobby to meet with the guests.)
Number of rooms

Total number of rooms 98:Western-style room 90 rooms/8 Japanese and Western rooms
Western Chamber:56 single rooms(12 to 12 m2)/16 double rooms(15 to 15㎡)/18 twin rooms(15 to 23㎡)

Room supplement

Deluxe twin only, separate bath and toilet Other bathtubs in all rooms

Standard room equipment

All rooms bath and toilet/Shower in all rooms/Air conditioning in all rooms/TV set/Satellite broadcasting/Empty refrigerator/trouser presser(Including lending)

Internet related

All rooms available
[Connection method]Wired LAN / Wireless LAN
[PC rental]Yes
[Internet connection]Free
LAN cable is available in each guest room.
Wifi is available in all rooms and guest rooms.

PC rental is JPY 1,050 per night.
(The number is limited.We do not accept reservations.)

Amenities

Hand towel/Toothbrush and toothpaste/bath towel/shampoo/rinse/Body soap/Bathrobe/Hairdryer/Duvet/Shaving/Shower toilet/Comb/Brush

Service & leisure(Including arrangement)

Cleaning service

Credit cards available locally

JCB / Visa / AMEX / UC / DC / Diners

Standard check-in time

15:00

Standard checkout time

11:00

amenities supplement

Cleaning service will be charged separately.amenities is given to women free of charge.

Cancellation provisions

3 days prior:30% of room rate
2 days prior:30% of room rate
1 days prior:50% of room rate
On the day of arrival:100% of room rate
Cancellation without any contact:100% of room rate
Cancellation after 15 o'clock on the day or cancellation without notice 100%
*If there is a cancellation policy set for each accommodation plan, that will be prioritized.