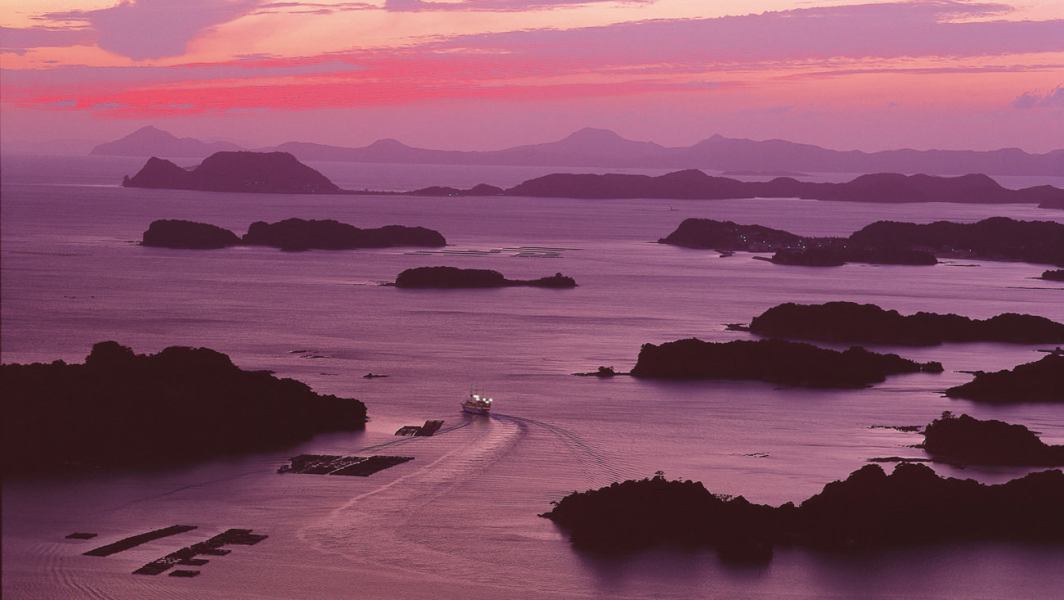 It is only here, but waiting.
A bayside resort hotel overlooking Kujuku Islands National Park.
A coastline that is complicated and intricate.National Park Kujukushima where more than 200 islands nurture a rich ecosystem.
There is FLAGS within walking distance to Kujuku Islands.

Relaxing space that reminds you of a resort on the West Coast of the United States.
Gentle time flowing there.
Hospitality that has been cultivated in this place.
Everything about hospitality is here.

It is the only place where many people visit Kujuku Islands.
With hospitality modeled on Kujuku Islands, which is full of "here 's allure"
We will welcome everyone.
FLAGS 5 stars essences / 99 hospitality for one customer.
99 hospitality for one customer.

We will offer all the hospitality that one customer can think.
We welcome you with the hospitality appropriate for the wonderful scenery of Kujuku Islands.
The best position for sightseeing in Kujukushima.

Flags is in front of KUJUKUSHIMA PEARL SEA RESORT.
It is a place where you can walk easily without a walk, and you can fully enjoy the expression that the rich nature can show.
Recommended walking course and running course are also introduced.
Glocal.The only place.

It is an era where you can get anywhere.
That's why it's only here,
I am passionate about the experiences here.
I walk with people who live in this town.

Anniversary of the family, new entrance, time with nostalgic friends.
I will continue to engage seriously in the life of people living in this town.
Culture origin base.

Flags is a place where you can touch the culture of Sasebo and Nagasaki.
In addition to tourism resources called Kujuku Islands,
I would like to be a hotel that you can experience the people, goods and goods nurtured in this land.
740 Kashimae-cho, Sasebo-shi, Nagasaki Prefecture 858-8589
TEL 0956-28-2111, FAX 0956-28-2119
Coming by JR

1 hour 47 minutes by express train from JR Kyushu "Hakata Station" to Sasebo Station

Coming by bus

1 hour from "Nagasaki Airport" to "Sasebo"
1 hour 50 minutes by express bus from "Hakata" to Sasebo Station

When coming by car

About 10 minutes from Nishi-Kyushu Expressway"Sasebo Chuo IC"
1 hour and 30 minutes from Nagasaki via Saikai Bridge via Nishi-Kyushu Expressway"Sasebo Chuo IC"
25 minutes from Huis Ten Bosch via Nishi-Kyushu Expressway"Sasebo Chuo IC"
About 10 minutes from Sasebo City Region

By airplane

1 hour 55 minutes from "Tokyo" to "Nagasaki Airport"
1 hour 15 minutes from "Osaka" to "Nagasaki Airport"
About 1 hour and 10 minutes by car from the airport via Nishi-Kyushu Expressway"Sasebo Chuo IC"

When using shuttle bus

The hotel guests can use the shuttle bus between Sasebo Station and the hotel for free.
Since it operates at the following times, please use it.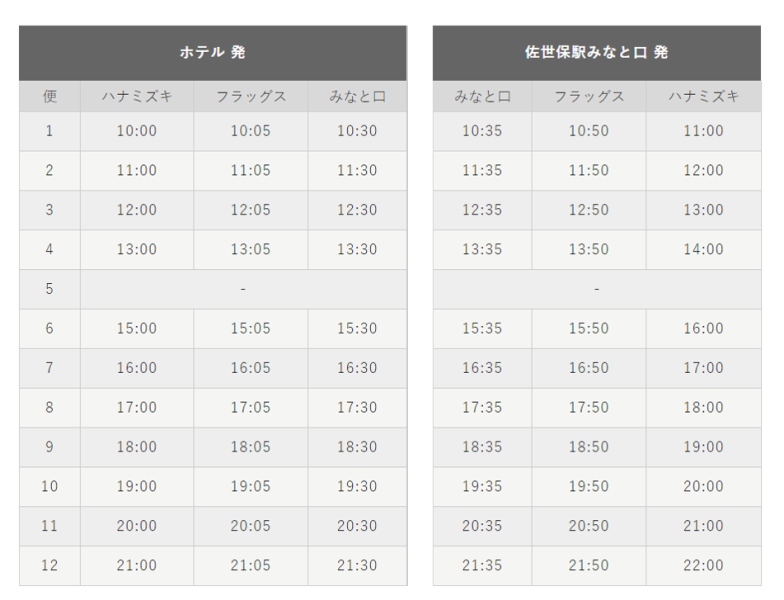 Tourist information / Surrounding tourist information
Saikai National Park Kujuku Island a tourist base for the churches World Heritage Candidate Island.
FLAGS is a convenient place to access the sightseeing base in the north of Nagasaki Prefecture. It is also ideal for trips to the KUJUKUSHIMA PEARL SEA RESORT, Huis Ten Bosch, and Nagasaki Churches that are candidates for World Heritage.
208 islands that 25 kilometers north of Sasebo Port to Hirado Seto are called Kujuku Islands, and the density of the island is the highest in Japan. It is designated as Saikai National Park along with the Hirado Islands and the Goto Islands.

Sasebo Tourism Information Center
0956-22-6630
Set in the Saikai National Park Kujukushima, a sea resort facility with pleasure boats, yacht sailing, sea kayaking, aquariums and more. It is a sightseeing spot that you can enjoy both couples and families.Oyster Festival is also held in autumn and winter.

1008, Kashimae-cho, Sasebo-shi, Nagasaki Prefecture
0956-28-4187

Cruising to go sandwichingly between the islands.There are daytime regular flights over the blue sea and green islands, and sunset Cruise only for the period when you can see the beautiful sunset over Kujuku Islands. On April 1, 2015, Japan's first electric propulsion pleasure boat, the Kujukushima Pirate Pleasure Cruise Mirai will debut.

1008, Kashimae-cho, Sasebo-shi, Nagasaki Prefecture
(In Pearl Sea Resort)
0956-28-4187

A community-based aquarium dedicated to reproducing the rich ecosystem of Kujuku Islands. At the dolphin show which is held three times a day, jumping catch balls of dolphins who can only be seen here are showing off.

1008 Kashimae Town, Sasebo City, Nagasaki Prefecture
0956-28-4187
Kujukushima Zoo & Botanical Garden Mori Kirara, ~MORIKIRARA~

Animal and botanical gardens with dome type greenhouses that live in lions, Indian elephants, Taishu Horses, shirotetenaga monkey, lesser pandas, and can enjoy 500 subtropical plants.A 3-storey penguin hall with a ceiling tank of the largest scale in Japan (total length 80 m) is also popular.

2172 Funakoshi Town, Sasebo City, Nagasaki Prefecture
0956-28-0011
Huis Ten Bosch comprehensive resort facility where many events are held throughout the year.It is a tourist facility that represents West Kyushu. FLAGS is also home to many guests who enjoy sightseeing in Huis Ten Bosch.

1-1 Huis Ten Bosch Town, Sasebo City, Nagasaki Prefecture
0570-064-110
The altitude is the lowest among the observatory in the Kujukushima Hakkei, you can enjoy the spectacular view of Kujuku Islands in front of you. Kujuku Islands seen from here is as beautiful as a sumi-e on rainy days. You can enjoy the beautiful Kujuku Islands any weather.

147, Funakoshi-cho, Sasebo-shi, Nagasaki Prefecture
(Sasebo Tourism Information Center)
0956-22-6630
Close more sea than Yumihari Mount in the observatory which is at an altitude of 191m Ishidake summit, a great place to view the Kujuku Islands View from here is a 360 degree view, many professional photographers visit pros, amateurs to the power of the islands they desire.

2277, Funakoshi Town, Sasebo City
(Sasebo Tourism Information Center)
0956-22-6630

Approximately 15 minutes by car

It is an observation deck that is famous as a place where the Kujukushima Southern Part can be seen more beautifully. In the park around the observatory, rape blossoms in spring and cosmos in autumn bloom, every year it is crowded with many people.
※There is an observation deck where we walked about 100 M from the parking lot.

399, Shimofunakoshi Town Sasebo City
0956-22-6630
It is a park that you can enjoy from overland, even in Saikai National Park with many islands.It is also considered for wheelchairs and you can watch rare Sasebo flowers.It is ideal for walking course surrounding the hotel.

1053-2 Kashimae Town, Sasebo City, Nagasaki Prefecture
0959-56-3111

Approximately 15 minutes on foot

Ojika Island where ferries and high-speed ships are in service from Sasebo Port.As a beautiful Japanese island, it is an island which school trip students from overseas visit, and often found in topics in recent years.It is a place I would like you to extend your legs when you are in Sasebo.

Fuefukigo, Ojika-cho, Kitamatsuura-gun, Nagasaki Prefecture
0959-56-3111
A brick church in Kuroshima.It was completed in 1902.Besides bricks, Island Specialty Mikageishi, Porcelain tiles are also used.Designated as an important cultural property of the country in 1998.It is one of the "Churches and Christianity Related Heritages in Nagasaki". ◎ Visit required beforehand (Nagasaki Church Group Information Center : TEL: 095-823-7650)

3333 Kuroshima Town, Sasebo City, Nagasaki Prefecture
0956-56-2017

1 hour by ferry from Ainoura Port
Kujukushima Chikusai, ~Restaurant~

Local cuisine, Japanese cuisine made using seasonal ingredients ordered from various parts of Kyushu · Teppanyaki.Teppanyaki counter seat with bamboo groves and private room available.

THE ONE, ~ Restaurant~

Italian ham and cheese, Mediterranean Sea restaurant stuck with local fresh seafood and vegetables.Pizza to be baked in the equipped stone kiln is recommended.
Hot Springs, ~Spa~

Kujukushima Onsen that soothes the fatigue of travel. It is a bicarbonate spring that is effective for fatigue recovery, coldness, neuralgia, etc.

lobby, ~Lobby~

The spacious lobby to welcome guests is a space designed with various materials, rhombuses that lead to Japanese and Western.
Lounge, ~Lounge~

Tea lounge chic and calm down.Please use it for arrival, departure, meeting and meeting.Drink bar menu available.


Exterior appearance, ~Appearance~

FLAGS next to Saikai National Park is a place where you can feel green as well as the sea. We will meet you with refreshing bamboo groves consisting of 5 kinds of bamboo.