New corona infectious disease measures
New corona infectious disease measures
CITYPLAZA OSAKA, we are implementing the following infection prevention measures in consideration of the health and safety of our customers and hotel staff, and in order for our customers to receive services with peace of mind.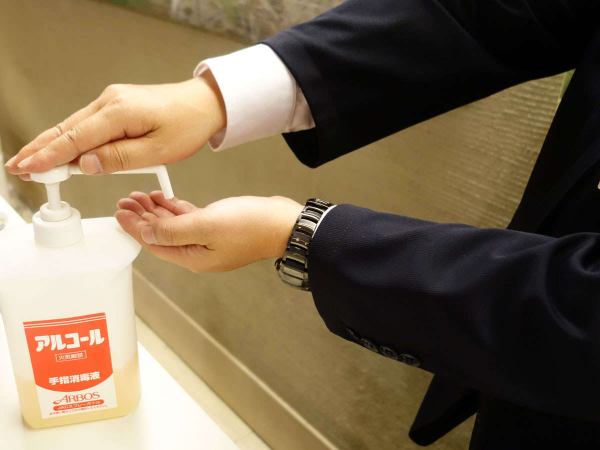 Initiatives by all employees
・All employees wear masks when they work, including when they go to work.
・At the beginning of work, we check the health condition (thermometry) and instruct you to wait at home if you have a fever of 37.5°C or higher, or a cough.
・We practice hand washing, gargling, and alcohol disinfection at the start of work, at work, before and after meals, after going out, and between customer correspondence.
・Even during breaks during work, we use staggered times and sit at intervals.
・We guide employees to refrain from unnecessary outings (including business trips) and overseas travel.
Initiatives in public spaces within the facility
・We ask that our customers use alcohol for disinfection at major locations within this facility.
・We carry out more thorough alcohol disinfection and cleaning mainly on places where there is a possibility of contact (elevators, escalators, sofas, etc.).
Initiatives at the front desk
・A splash prevention board is installed at the front counter.
・We will settle the payment and deliver the card key on the tray.
・The front counter and writing instruments are regularly sterilized with alcohol.
Initiatives within the restaurant
●As a restaurant that complies with the guidelines for infectious disease control,
Dining room "Rivage", Japanese cuisine "Oe", Tavern TATSUMIYA,
We have obtained the "Infection Control Certification Gold Sticker" from Osaka Prefecture.

・We ask our customers to cooperate in wearing a mask.
・Disinfectant installed at store entrance
・Disinfectant and gloves are installed at the buffet corner
・Install a splash prevention board on the table
・Spaced the seats
・Regular disinfection of tables and chairs
・Regular air replacement
・Use cash tray for payment
・Staff must wear masks
・We check the physical condition of the staff before going to work, and stipulate that people with poor physical condition will not work.
・We ask that you wear a mask and use alcohol to disinfect your hands when entering the building so that everyone can use it with peace of mind.
・Please leave a space between you while waiting for the elevator, getting on and off the elevator, and when using the escalator.
・We participate in the operation of the "Osaka Corona Tracking System" in Osaka Prefecture, and have pops for registration at each store, banquet hall, and large communal bath.
・At the request of cooperation from the Ministry of Health, Labor and Welfare, temperature is measured when visiting the building and entering the store.We appreciate your understanding and cooperation.
 (1) If you have a fever of 37.5°C or higher, or if you have a cough or sore throat, contact the public health center and follow the instructions.
 (2) Customers with fever, cough, and sore throat may be asked to wait in a private room where they will not come into contact with other customers and refrain from going out.